2136.409 – RECKONING – NIGHT 4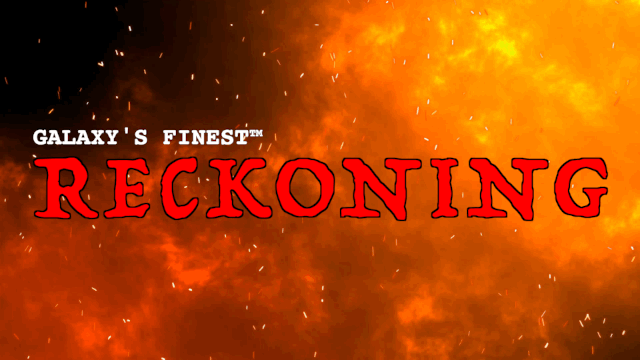 Live from Deimos Intergalactic Arena, Deimos!
We start the show with breaking news of Commissioner Massif having been attacked in his office! The show starts with images of Massif being loaded into an emergency vehicle. Lord Nexus, Commander Sam, Catfight stand nearby and watch.
CATFIGHT: They have no idea who did this.
LORD NEXUS: Could have been anyone, but my money is on Godsend and company.
COMMANDER SAM: This is what Endgame has been talking about! Forces of evil playing underhanded tactics to get advantages!
LORD NEXUS: You're right.
COMMANDER SAM: What do we do about it?
CATFIGHT: We fight boys. We fight. You two always pussyfoot around before getting involved in matches. That ends now. See a wrong, right a wrong. Don't let them get away with it.
Sam looks at Nexus.
COMMANDER SAM: She's right. We take the fight to them as we did in the old days!
Nexus nods as we cut back to ringside.
Before the first match, it was announced that, despite being out with a pretty serious injury, Aethran Overmaster would be here tonight to defend the GALAXIAN CHAMPIONSHIP! This is a huge announcement and shocks many in the crowd.
GALAXIAN CHAMPIONSHIP
RANKING GAUNTLET
ALL MATCHES FOUGHT UNDER TITAN DEATH RULES!
Faller d. Totalis, the Tournament Master via pinfall after DOWN TO SIZE – *** – Big win for Faller here! Totalis had been using every underhanded trick in the book and was moments away from winning when Lord Nexus hopped up on the ring apron! Totalis went after him and Faller hit him with his finisher from behind to get the win and advance!
Epoch d. Faller via pinfall after a roll through a cross body block – *** – Great back and forth match between these two. Neither had the advantage until the final moments when Epoch pulled out a surprise win.
Sly Drury headed to the ring for the match. Fans notice he was limping a little as he stepped into the ring. He looked less than thrilled to be stepping into the ring against Epoch. Epoch was relishing the thought.
Epoch d. Sly Drury via pinfall after RETURN OF THE BEAST – SQUASH – Total domination by Epoch. Sly Drury got in no offense at all as Epoch took him down in three moves. Totally unlike Drury. He was just completely unprepared.
Perfect Specimen d. Epoch via pinfall with PINNACLE OF SUCCESS – * – Decent back and forth to begin but Perfect Specimen is able to to put away Epoch easily.
Perfect Specimen stood waiting for his next opponent. An official ran ringside and whispered into the ring announcer's ear.
ANNOUNCER: Perfect Specemin's opponent, from Parts Unknown…Hector the Holy Brown Bear!
A gasp goes through the crowd as Hector begins making his way to the ring! He has not been seen in years and was certainly not scheduled to be here tonight! Perfect Specimen and Lord Nexus begin complaining to the ref who is shrugging, seemingly powerless.
Hector climbs into the ring and motions for Perfect Specimen to get ready to fight. The bell rings!
Perfect Specimen d. Hector, the Holy Brown Bear via pinfall after PINNACLE OF SUCCESS – **** – Hector seems to have not missed a step and apparently picked up a few new moves but Perfect Specimen wrestled smart and was able to get the win!
After the bell, Perfect Specimen looked down at Hector and then out to the crowd. A cheer went up from the crowd! Perfect Specimen reached down and, placing a foot on Hector's chest, ripped the bear head off!
It took a few second for people to recognize the sweaty face revealed as…Shayne!
Perfect Specimen was furious! He picked up the limp Shayne and kicked him through the ropes to the arena floor. Security came out and dragged Shayne from ringside.
Perfect Specimen stalked around the ring irate. He'd wrestled an extra match against someone who wasn't even supposed to be competing! Perfect Specimen's next opponent headed ringside…Monolith!
Monolith d. Perfect Specimen via pinfall after CATASTROPHE – ** – Perfect Specimen just could not put the big man down. Had he not wrestled an extra match, things might have been different but Monolith came to win and would not be denied.
MAIN EVENT
GALAXIAN CHAMPIONSHIP
TITAN DEATH RULES
Monolith d. Aethran Overmaster via pinfall after DECAPITATOR – **1/2 – Monolith takes advantage of the injured Aethran Overmaster and destroys him! Monolith claims the GALAXIAN CHAMPIONSHIP for the sixth time in his career. Credit has to be given to Aethran Overmaster for showing up but he really shouldn't have.
Monolith stands tall in the ring, with the GALAXIAN CHAMPIONSHIP around his waist. CATFIGHT celebrates with her man.
Suddenly, Monolith is attacked from behind!! The attack barely registers with the Champ and he stands his ground. Monolith slowly turns around to see who hit him and glares down at…Shayne, still in the bear suit.
Monolith lets out a howl of rage and Shayne scrambles backward out of the ring as the crowd cheers loudly.
There is a new Champ and he will not be intimidated.
FADE TO BLACK
2136 RECKONING MVP: Monolith (2 wins + Title win.)