2136.408 – RECKONING – NIGHT 3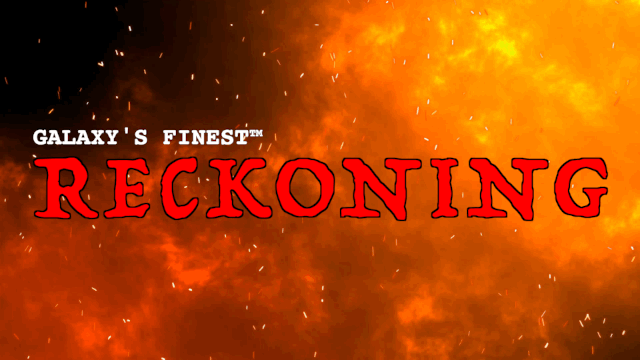 Live from Deimos Intergalactic Arena, Deimos!
The Deimos Intergalactic Arena is packed and the fans are ready for another night of the premiere wrestling spectacular in the galaxy…THE RECKONING!
Tonight, the GALAXIAN TAG TEAM CHAMPIONSHIP will be on the line and TITAN STAND will defend against whomever wins the Gauntlet!
Many have noted that tonight will be a shorter and, more interesting, event than years past as two heavy hitting teams, FDF TRADITION and CASTILEX are out on suspension!
Also, two teams that are undefeated so far in 2136, NOWHERE TO RUN and GALAXIAN TAG TEAM CHAMPIONS TITAN STAND! It's possible one of those teams could end the evening undefeated! It's time to find out as we head ringside for our opening match!
GALAXIAN TAG TEAM CHAMPIONSHIP
RANKING GAUNTLET
ALL MATCHES FOUGHT UNDER TITAN DEATH RULES!
CHAMELEON CREATURES d. BETTER THAN HUMAN via pinfall when Chameleon Creature Black Death covered PSI after UNIVERSE SHATTERED – **1/2 – Tharkas did a TON of damage to Chameleon Creature Future Shock but Chameleon Creature Black Death was able to tag in and secure the victory! They are seriously weakened going forward.
ROYAL UPRISING d. CHAMELEON CREATURES via pinfall when Death Knight smashes Chameleon Creature Black Death with I STRIKE FOR FREEDOM – **1/2 – CHAMELEON CREATURES nearly had the victory by wearing down Exo-King but Death Knight was able to make the save and get the victory.
ROYAL UPRISING d. NOWHERE TO RUN via pinfall when Death Knight smashes Kill Prey with the Loaded Glove – ***1/2 – ROYAL UPRISING used quick tags to protect Exo-King to pick up the victory and hand NOWHERE TO RUN their first loss.
MEAN STREETS d. ROYAL UPRISING via pinfall after Skiver smashed Exo-King's head into a ring post – ** – MEAN STREETS were the fresher team and easily take down ROYAL UPRISING to get the win.
GLADIATORS d. MEAN STREETS via pinfall when Fist hits Skiver with ARMAMENT – SQUASH – Fist destroyed Skiver in the opening moments of the match! Patch was worn down from the previous match and wasn't able to make the save in time.
FIST: Hey! Titan Samurai man, bring our belts and that Quasar wannabe out here so we can finish this!
Overtime charged the ring with Kenji and Lord Nexus training behind and we have our main event!
MAIN EVENT
GALAXIAN TAG TEAM CHAMPIONSHIP MATCH
GLADIATORS d. TITAN STAND via pinfall when Probation covers Overtime after UNCHAINED – ****1/2 – Heck of a match! TITAN STAND fought with all they had but the GLADIATORS just steamrolled them and win the night to become the NEW GALAXIAN TAG TEAM CHAMPIONS!
The GLADIATORS now control 2 of the four titles here in the GALAXY'S FINEST. Will Aethran Overmaster be able hold on to the GALAXIAN CHAMPIONSHIP? We will find out on the next night of…THE RECKONING!
FADE TO BLACK
2136 RECKONING MVPs: GLADIATORS (2 wins + Title win) – This is the first time in the modern era that an Aethran team has been crowned RECKONING MVPs.