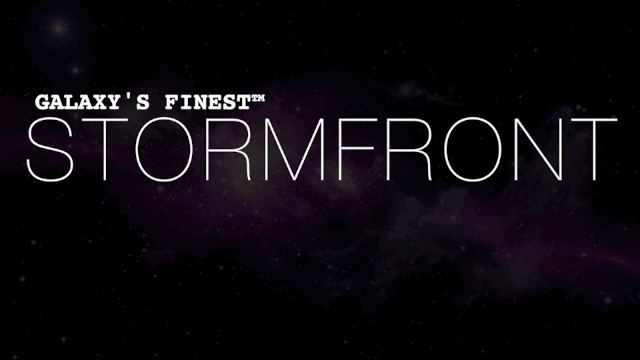 Live from Deimos Intergalactic Arena, Deimos!
COSMIC CAGE MATCH
The Basilisk d. TERROR by escaping the cage after the serpent smash – ** – Completely one sided here! TERROR didn't try to run away and brought the fight to The Basilisk, but he was no match for the creature!
As The Basilisk exited the cage and the bell rang, Murtak attempted to launch a net at the hulking creature! He had the launcher pointed the wrong way and the net snared Murtak himself! The Basilisk took no notice and left via the crowd as Murtak screamed to get TERROR to help untangle him.
Killer Queen d. Kralla via pinfall after a spine stomp – ***1/2 – Kralla hit Killer Queen with an impressive series of finishers in the opening minutes of the match but she couldn't put Killer Queen away! Killer Queen mounted a big comeback and was able to pick up the victory!
NOWHERE TO RUN d. MEAN STREETS via submission when Kill Prey locked Skiver in Animal Trap – * – Kill Prey would not let Skiver tag out and just wore him down until he picked up the victory. This should put NOWHERE TO RUN in the #1 Contenders spot.
FINISHER MATCH
Sinful d. Taichi via submission when she locked Taichi in the ARM TRIANGLE – **1/2 – Quick match here! Sinful won via finisher…Taichi's finisher! Applied expertly and Taichi tapped quickly! Sinful looked dominant here.
HARDCORE TITAN DEATH MATCH
Sly Drury d. Totalis, the Tournament Master via pinfall after REGIME CHANGE – **1/2 – Drury was in full control the whole time! The final moments saw Sly smash Totalis with a floating HoloVision monitor, whip him into the adamantium ring steps and then toss him into the ring and hit him with the finisher! Sly Drury kicks Totalis before he leaves the ring. Done with him for good.
Godsend d. Burning Man via pinfall after KINGDOM COME – **1/2 – Godsend's mission was to punish Burning Man for leaving THE DOMINION! To punish him more he gave a signal and Demon Godsend smashed Massif from behind and climbed into the ring! Suddenly CASTILEX appeared at ringside and climbed into the ring and all four men began beating on Burning Man mercilessly!
Massif made it to his feet and signaled for Security! Security flooded the ring and it took several minutes to clear the ring! Raglan and Flagyl rushed ringside to tend to Burning Man who was obviously injured!
MASSIF: Godsend! You're suspended! Demon Godsend, CASTILEX, suspended! Immediately! Security, throw them out of the building!
Godsend and company argued but security took them right out of the building!
Epoch ran ringside and began pleading with Massif to let Demon Godsend stay and fight but Massif refused! Epoch was not happy.
HYDRA LUMBERJACK MATCH
Epoch d. Demon Godsend via forfeit due to Demon Godsend's immediate suspension – NR – Epoch reluctantly got his hand raised in victory but fans could see how upset he was.
SURVIVAL RULES MATCH
ROYAL UPRISING d. CASTILEX via forfeit due to CASTILEX'S immediate suspension – NR – Unlike Epoch, Exo-King and Death Knight were more understanding of the situation and vowed to be waiting for CASTILEX upon their return!
GWF WOMEN'S CHAMPIONSHIP MATCH
Cosmic Woman d. Scorn via pinfall after VORTEX UNLEASHED to become the new GWF WOMEN'S CHAMPION – ****1/2 – Practically a one-sided squash! Cosmic Woman came to reclaim her title and did so in a dominant fashion.
INTERPLANETARY CHAMPIONSHIP MATCH
HelSin d. Shayne via pinfall after EQUALIZER – **** – Shayne was seconds away from winning having just hit EYE 4 EYE when out of nowhere, HelSin smashed him with EQUALIZER to get the win and retain his title.
SHAYNE: HelSin, I didn't know what kind of man you are. Now I do. This isn't over!
GALAXIAN TAG TEAM CHAMPIONSHIP MATCH
TITAN STAND d. GLADIATORS via pinfall when Kenji knocked out Fist with the ONE INCH PUNCH – ***** – Match of the year so far! This was one of the most exciting tag team matches in the GALAXY'S FINEST in years! The fans were on their feet the entire time! All four men ended the match bloodied! Lord Nexus even got involved hitting Probation with a TITAN DROP behind the ref's back! Paralyze got involved as well but the ref spotted him and ejected him from ringside! The Titans stand tall with this huge victory, proving they are not paper champions!
GALAXIAN CHAMPIONSHIP MATCH
Aethran Overmaster d. Endgame via pinfall after an Aethran Gutbuster to become the new GALAXIAN CHAMPION – *** – Aethran Overmaster came to the ring with one purpose, to reclaim the title and he did just that in this one sided affair!
After the bell, Commander Sam climbed up on the apron to shout at Aethran Overmaster! This turned out to be just a distraction as FDF TRADITION stormed the ring and began wailing on Overmaster! Soon Endgame was on his feet and joined in.
For the second time tonight, Massif brought Security in to clear the ring! To their credit, the members of the Federation Defense Fighters stopped brawling when Massif yelled at them to, but Aethran Overmaster lie bloody in the ring. Medics tended to him and Massif shouted his disappointment at Commander Sam and his men.
MASSIF: I have no choice! Endgame, Climber, Tank…suspended immediately!
The crowd booed this decision as the FDF acquiesced and left the ringside area. The new champ looked seriously hurt and Raglan and Flagyl worked on him in the ring as we…
FADE TO BACK
—
UPDATES:
INJURIES
Burning Man injured for 6 Cards.
Aethran Overmaster injured for 10 Cards.
SUSPENSIONS
Endgame suspended for 4 Cards.
FDF TRADITION (Climber & Tank) suspended for 4 Cards.
Godsend suspended for 6 Cards.
Demon Godsend suspended for 6 Cards.
CASTILEX (Moog & Sentinel) suspended for 6 Cards.