2137.428.25 – INTERLUDE – THE LAB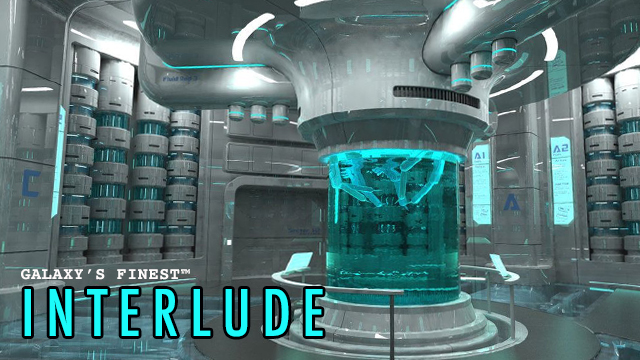 A non-discript carrier cruiser sits hovering outside the Deimos Intergalactic Arena. Inside a room at the center of the carrier, scientific equipment whirrs and beeps. In the middle of the room, The Basilisk floats in the middle of a tank. Unconscious.
Orrus sits at a computer console, pouring over the readouts. Tarval paces at the other end of the room. Tarval looks at a gauge and taps it with a claw.
ORRUS: Stop that! I'm trying to–
Suddenly the heavy metal door to the room blows off its hinges! It slams against the floor and standing there, seething, is Monolith.
Orrus and Tarval stand, ready to attack.
Monolith steps over the door and crosses to the tank He looks in at The Basilisk.
MONOLITH (in a low growl): You will release him so I may fight him.
ORRUS: That will–
MONOLITH: YOU WILL RELEASE HIM SO I MAY FIGHT HIM!
Monolith balls up a fist and smashes it into the tank. Fissures immediately appear in the tank and liquid begins seeping out at various places.
Monolith snarls and lumbers out of the room.
ORRUS: No, no, no, no…
Orrus rushes to the tank and attempts to stop the leaks. The liquid level drops in the tank, suddenly The Basilisk's eyes fly open and he begins to thrash about, creating more cracks in the tank.
ORRUS: NO! NO!! NO!!!!
FADE TO BLACK