SHAYNE – HISTORY OF A REIGN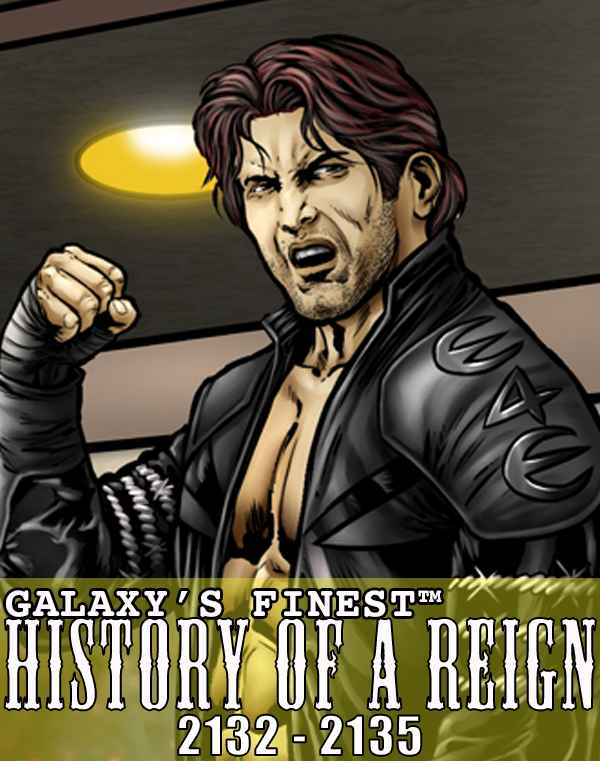 HISTORY OF A REIGN
There has never been anything like it.  In the 61 year history of the GWF, there has never been a title reign like this.  Shayne's historic 75 card title reign dwarfs any other in the history of the Federation.  Most reigns ended after 20 cards.  In fact, one of the longest GALAXIAN CHAMPIONSHIP reigns before this was also Shayne at 24 cards and at the time the was seen as historic!
And to add to the honor, while holding the GALAXIAN CHAMPIONSHIP, Shayne won the CASTILEX HEAVYWEIGHT CHAMPIONSHIP and defended that belt as well.  Often he'd fight on back to back cards defending them both and one night, he defended the CASTILEX HEAVYWEIGHT CHAMPIONSHIP not once, but TWICE in one night AFTER defending the GALAXIAN CHAMPIONSHIP moments before!
There has never been an athlete like Shayne in the GWF.  People like to throw around the phrase Greatest of All Time.  They bestow and remove that moniker on a whim.  Shayne has cemented himself as the definitive Greatest of All Time.
REIGN BEGINS
2132.305
GALAXIAN CHAMPIONSHIP
MILKY WAY FALLS COUNT ANYWHERE MATCH
Shayne d. Nosfera via pinfall after SHOWDOWN – **1/2 
2132.310
GALAXIAN CHAMPIONSHIP MATCH
Shayne d. Monolith via pinfall after EYE TO EYE – *****
2132.314
GALAXIAN CHAMPIONSHIP MATCH
TITAN DEATH RULES
Shayne (6) d. Monolith (9) via pinfall after a missed turnbuckle charge – *****
2132.320
GALAXIAN CHAMPIONSHIP MATCH
NO DISQUALIFICATION/NO COUNTOUTS/NO ONE ALLOWED AT RINGSIDE
Shayne d. Eydilon via pinfall with EYE 4 EYE – *** 
2132.324
GALAXIAN CHAMPIONSHIP MATCH
Shayne d. Perfect Specimen via submission when Perfect Specimen is no longer able to continue – *****
2132.325
GALAXIAN CHAMPIONSHIP MATCH
Shayne d. Nosfera via DQ  when Nosfera slams Shayne into the metal barricade against the ref's warnings – **1/2
2133.326
GALAXIAN CHAMPIONSHIP MATCH
Shayne d. Nosfera via pinfall with SHOWDOWN after SHAYNE'S FURY three moves into the match – SQUASH
2133.330
GALAXIAN CHAMPIONSHIP MATCH
Shayne d. Perfect Specimen via pinfall with SHOWDOWN to retain the GALAXIAN CHAMPIONSHIP – **
2133.335
GALAXIAN CHAMPIONSHIP MATCH
Shayne d. Eydilon via pinfall with SHOWDOWN – ****
2133.339
GALAXIAN CHAMPIONSHIP MATCH
TITAN DEATH RULES
Shayne d. Sly Drury via pinfall with SHOWDOWN (Shayne's Fury) – **
2133.340
GALAXIAN CHAMPIONSHIP MATCH
Fist d. Shayne via DQ when Shayne slams Fist with a wagon wheel at ringside – ***1/2
2133.350
GALAXIAN CHAMPIONSHIP MATCH
TITAN DEATH RULES
Shayne defeated Perfect Specimen with a via pinfall after EYE 4 EYE – ***1/2
2134.351
WINNER TAKE ALL
TITLE VS. TITLE
TITAN DEATH MATCH
Shayne d. Godsend via pinfall after EYE 4 EYE to become the NEW CASTILEX HEAVYWEIGHT CHAMPION – ***** 
2134.355
CASTILEX HEAVYWEIGHT CHAMPIONSHIP
Shayne d. Godsend via pinfall after EYE 4 EYE – **1/2 
2134.356
GALAXIAN CHAMPIONSHIP
Shayne d. Eydilon via pinfall after EYE 4 EYE – S-Q-U-A-S-H
2134.360
CASTILEX HEAVYWEIGHT CHAMPIONSHIP
TITAN DEATH MATCH
Shayne defeated Godsend with a spinning heel kick (pinfall) – *****
2134.361
GALAXIAN CHAMPIONSHIP MATCH
Shayne defeated Monolith with a SHOWDOWN (pinfall) – **** 
2134.365
GALAXIAN CHAMPIONSHIP MATCH
TITAN DEATH RULES –
Shayne defeated Monolith with a SHOWDOWN (pinfall) – **
2134.366
CASTILEX HEAVYWEIGHT CHAMPIONSHIP
Shayne defeated Godsend with a DQ when Godsend smashes Shayne with a ornamental shield – DUD
2134.371
GALAXIAN CHAMPIONSHIP
Shayne defeated Aethran Overmaster with a DQ when PARALYZE clobbers SHAYNE from behind – ***
CASTILEX HEAVYWEIGHT CHAMPIONSHIP
Shayne defeated Eydilon with a DQ when EYDILON smashes SHAYNE with a chair – **1/2
CASTILEX HEAVYWEIGHT CHAMPIONSHIP
TITAN DEATH MATCH
Godsend defeated Shayne with a Dextral Choke (submission) – *****
2134.375
GALAXIAN CHAMPIONSHIP MATCH
Shayne defeated Monolith with a FRONTIER JUSTICE (pinfall) – *****
2134.350
GALAXIAN CHAMPIONSHIP
Aethran Overmaster d. Shayne via pinfall with DOMINANCE – *****
REIGN ENDS
"Judge a champion by the caliber of his opponents." – Solaris